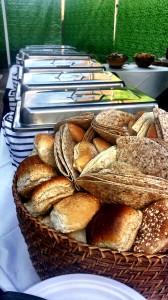 Hog Roast Windermere provides succulent hog roast catering across the entire county of Cumbria. Our door to door service covers all major districts, including South Lakeland, Allerdale, Carlisle, Barrow-in-Furness, Copeland, and Eden. With over one thousand square miles of scenic English countryside bordered to the west by over 120 miles of alluring coastline, it's easy to see how agriculture, fishing, and farming have naturally come to form the backbone of the Cumbrian way of life – and that means outstanding ingredients!
Get in Touch Today – Perfect Hog Roast Experience
If you've heard about us through friends or if you've found us online, the chances are that you probably have questions specific to your event or celebration. In our experience, almost all of our customers have questions about something that they believe may be an issue – and we love to prove you wrong!
You may be wondering if we supply all meat and vegetables. You may also be wondering if we supply side tables, plates, cutlery, and napkins. How about wondering whether the hog roast machine must be cleaned before pickup? Or if we supply spare gas cannisters? What about choice of different meats (and even seafood)? If you've browsed our menus section, you will have already discovered that we offer so much more than a hog roast. Take our hugely popular Chinese, Indian, and Italian starters, for example. Be sure to ask us about those. Catering a large event? How about a 'Double decker' hog roast machine that cooks two roasts at once – the huge machine capable of this 'double roast' feast is called the Titan for a reason!).
Hog Roast Windermere – Hog Roast in The Lakes
What drives us to be the best provider of hog roast catering in the county? The answer is simple. We're proud of our idyllic provincial county and we value each and every visitor that comes to share our outstanding natural surroundings with us – we think you deserve nothing but the very best!
Our beautiful rustic county is home to the Lake District, officially the most visited national park in the UK with almost 16 million overnight visitors per year and more than 23 million annual day visitors. Looking at the numbers, we were motivated to provide the mouth-watering meal time inspiration to keep the wonderful people who visit us coming back year after year.
Menu Info & Your Ideas
Hog Roast Windermere provides you with the hog roast experience of a lifetime. This means that we always source fresh local produce as standard. Our bespoke menus are brimming with tasty serving ideas sure to be the talking point of any celebration or event. But we love to hear your ideas…
Get in touch today and start the conversation about securing the best possible hog roast hire solution from Hog Roast Windermere.